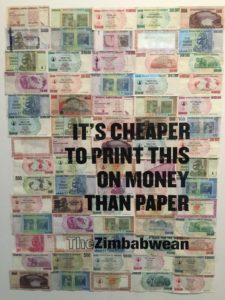 Be better equipped to deal with a potential financial crisis
As the western world continues an unprecedented period of stability, growth, and asset price increases, are these stimulatory economic policies also bringing us nearer to a global correction? Are there lessons we can learn now to avoid problems later?
In Zimbabwe, Robert Mugabe leads an oppressive tyranny where mad and bad economic policies created short term havoc. Is the policy of quantitative easing similar but more protracted? Is there anything we can learn from Zimbabwe?
David Coltart has been a brave and independent voice of reason within Mugabe's Government. He helped introduce the USD and brought in other economic measures to alleviate rampant inflation and stagnant growth. He has unique insights into how to react to worrying economic policies and asset price fluctuations – important lessons for individual investors.
At 12.30pm on the 10th August, David will give you his perspective in 45 concise minutes in a presentation you really shouldn't miss.